Hola!
Welcome to my world. I am a high maintenance, self-deprecating homo into making art and music. For commission work and mural inquiries, feel free to use my Contact Page.
Shop my current selection of paintings

Browse my shop and see what pieces I have available.

Check out my clothing line

See my colaboration with Jose Luis and the awesome garments we created. Available on his website.

Check out my murals

I have a collection of murals all over Noth America. Check out my latest ones here, along with video of me painting some start to finish.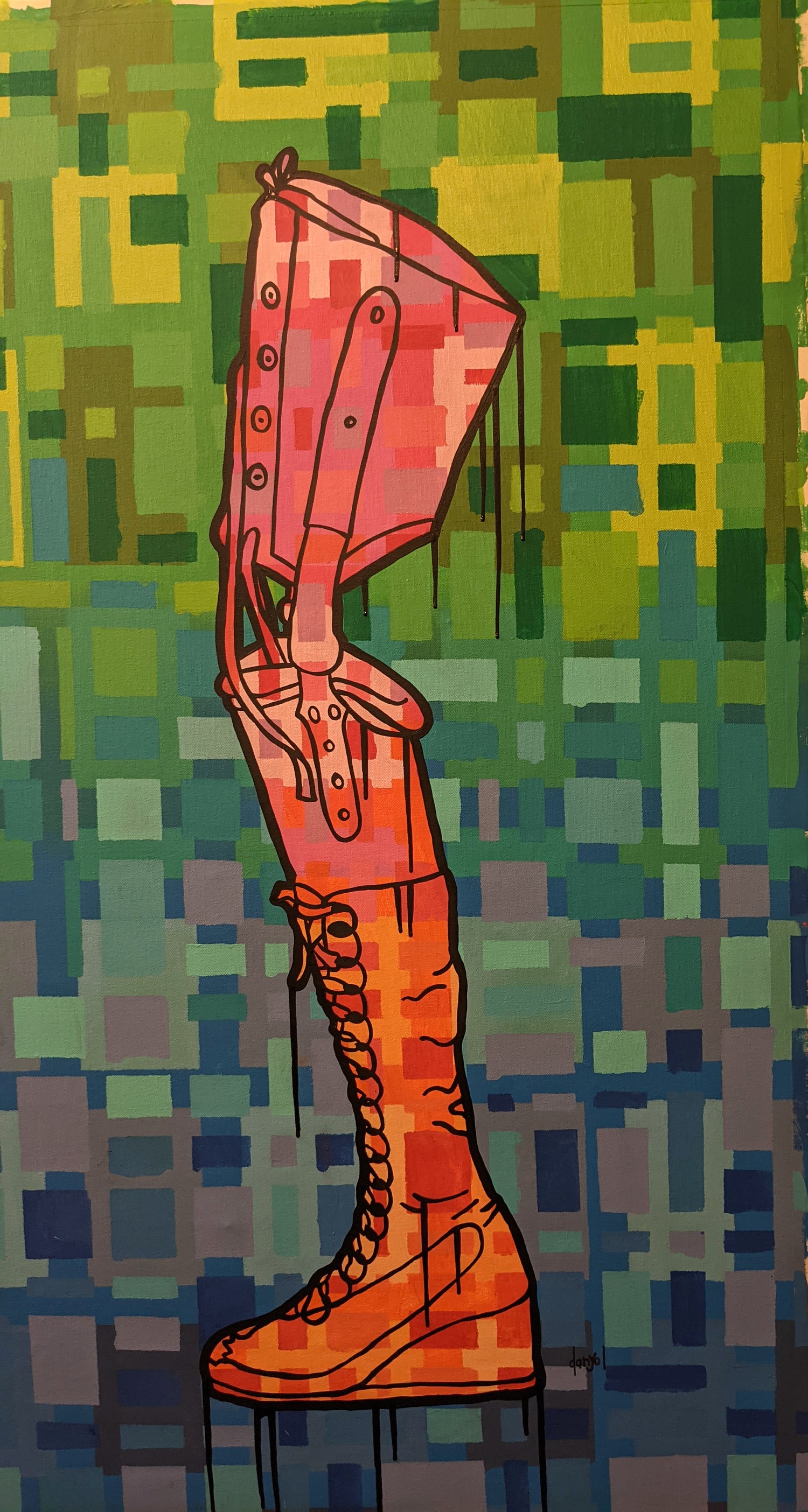 Artist Statement
Storytelling can take on many forms. My Mexican Grandmother, or Nana, passed down stories to her American grandchildren through craft and folk art. As I weave together colors and figures on a canvas in my newly adopted Mexican home, I reflect on her visual storytelling, and the impact it has on my art. My curent collection is called Re-Generation.
Quilting played a very important role in my early childhood. Nana would create beautiful, abstract quilts for our family out of household fabrics, reused and repurposed. A prom dress became skirts, pants, or blankets. A laundry bag became a stuffed animal or even oven mitts, with beautiful latin flare - something mundane transformed into something memorable. As I've grown older, I realize I learned a lot about the use of objects and ephemera as artistic mediums, as well as abstraction and color blocking, from her creations. I love how she took her art and handed it down to her grandchildren as a way of passing down our traditions and cultures. These items weren't simply oven mitts or blankets, they told a story of our family as they moved from Mexico to the United States and adapted to a new way of life in California. This intergenerational storytelling through stitchwork was very formative to my practice, even after Nana's passing all those years ago. Now I'm telling my own immigration story -- moving back to Mexico from San Francisco -- through this series. As I stitch together color and form to tell my own story, I continue the history of my family and use what I learned from my Nana.
While many queer people have started to raise families, many more embraced their roles as Aunts and Uncles, investing in their extended families and in their community. Indeed, the majority -- like me -- will never have children, and will miss out on this seemingly effortless practice of intergenerational storytelling. This series, Re-Generation, is my attempt to pass down my stories in ways that echo previous generations. Just as my Nana chose quilting material that evoked memories, each color on the canvas represents one facet of queer culture that I relished or endured. That light pink is the color of the shirt I was wearing when I first got called a faggot in 4th grade. That mint green is the color of the walls of the English class that I hid in during lunch so I wouldn't get beat up in junior high. That blue is the color of the first tab of molly I took at Long Beach Gay Pride in the Summer of 1995. That orange is the color that my husband and I painted our first home together. The significance of these colors, combined with the figures throughout, represent the love of my new life in Mexico.
My journey -- an extension of my family history -- informs the patterns of my paintings much the same way that my Nana pieced together quilts from pieces of her family's journey. The stories of my life as a queer person and as an American moving to Mexico will live on in this collection, contributing to the larger narrative of queer traditions and cultures in my communities.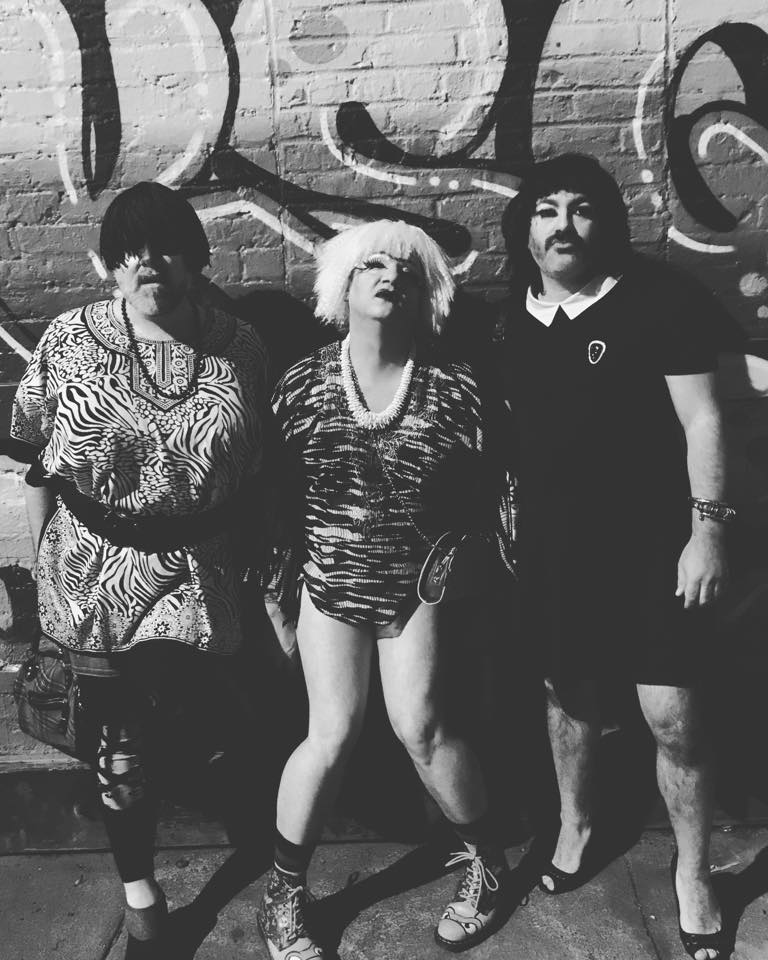 Music And Performance
I have a band (as Drag Queen Tamale Ringwald) with my two bestie cholas in San Francisco. We play live most summers, and write and collaborate on new material virtually while I am living in Puerto Vallarta.
Horchata LaShyGirl (drums, gritos), Tamale Ringwald (guitar, keys, vox) and Cholula Caliente (bass, vox) – three locas from San Francisco! Together we are Muñecas, a QUEER LATINX PUNK band that has been playing the SF scene for over a decade. Our sound is one part riotgrrrl inspired, one part crispy dark wave and two parts chingona-puta power anthems to make your primas say pow!
Muñecas on Spotify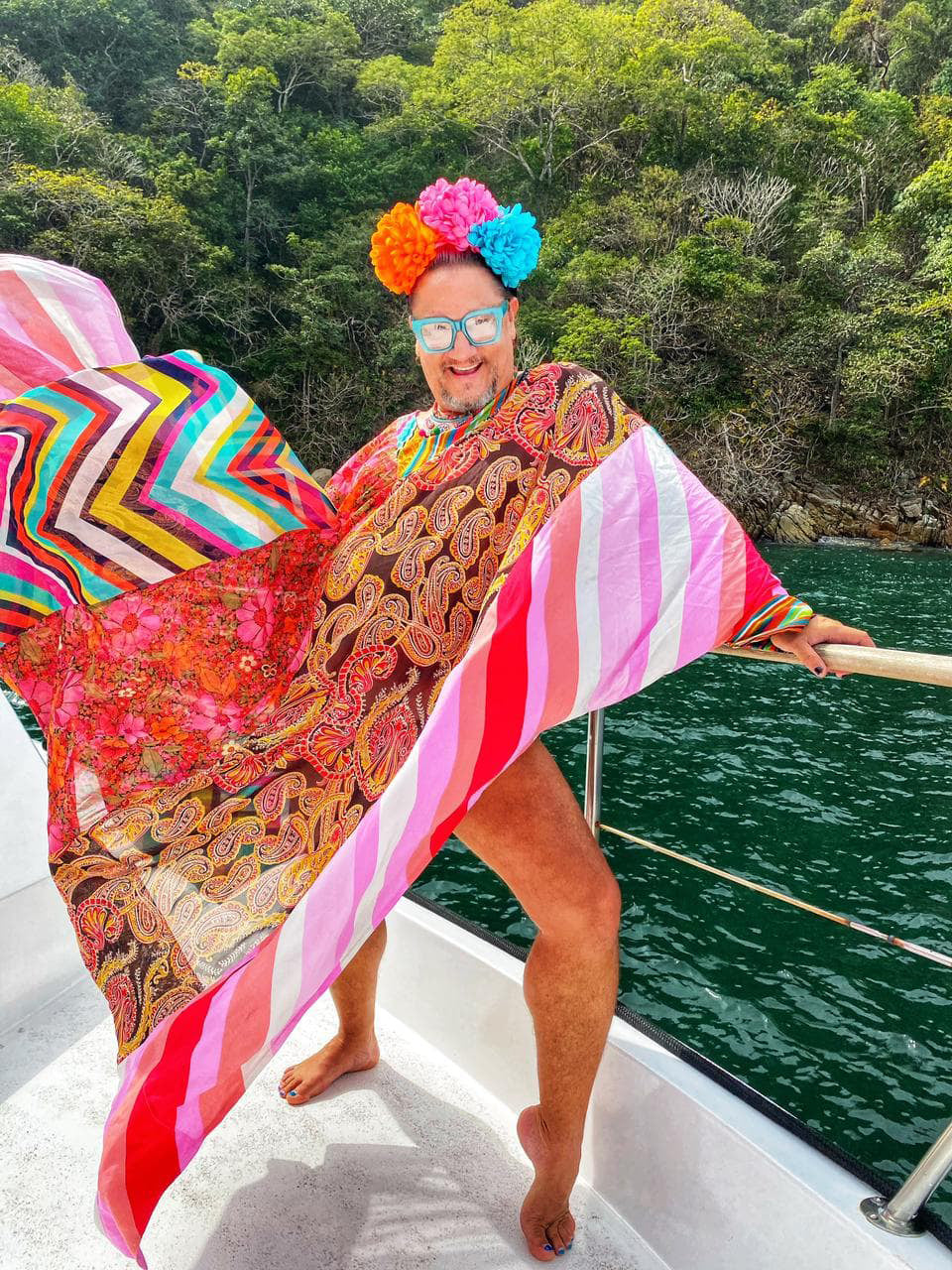 Tamale's Tours
My husband Sugarbaker and I own and operate a queer cruise company in Puerto Vallarta called Tamale's Tours. We create a space to feel free, meet new people, and explore nature's boundless beauty. With beach, snorkeling, and down-time, you'll have plenty of opportunities to play together, or dip out and chill.
Cruise the seas, lounge in the yacht's many open spaces, and mingle till you tingle. You'll enjoy chef-prepared meals and a premium bar on this all inclusive cruise. And we're sure you'll appreciate the staff as much as the comfortable and spacious amenities. From start to finish, and top to bottom, you'll feel the Tamale difference. On Tamale's Tours, you'll leave with new memories, and maybe a new community of friends.
We want to ensure the local community thrives just as much as the community on our tours. Your booking helps sustain PV's vibrance, as Tamale's Tours donates 5% of revenues to local charities supporting queer youth.
Please join us for a spectacular day on the Pacific .... and don't forget your kaftan!
Tamale's Tours Website